As the world shifts towards a low carbon economy, BSP is moving in step with the local and international society in order to sustain its significant contribution to the Brunei economy. BSP believes that conventional oil and gas can exist together with renewables and a key part of our strategy is to thrive through our energy transition and decarbonisation journey.
The BSP Energy Transition team was established on January 1, 2020 to spearhead BSJV support to Brunei's decarbonisation journey. The team acts as a conduit to the Brunei Climate Change secretariat and aims to be the center of excellence for low carbon soutions, working alongside various functions and teams to reduce the overall carbon footprint associated with delivering the oil and gas business. BSP aims to constantly build its expertise to deliver exciting new portfolio in the months and years to come for BSJV with ever-evolving technology.
BSP aims to increase renewable energy uptake within our operational and non-operational assets. The BSP's flagship 3.3MWp utility scale solar PV plant, which includes 7,000 solar panels, is a demonstration of that commitment and continues us on the journey of energy transition. 90% of the project team was made up of Bruneians, enabling them to grow their skills in the renewables space and acquire the skills to develop, construct and operate a solar plant.
BSP maintains an integrated view of what "energy transition" means across the BSJV companies and identify emerging opportunities that could make up a new portfolio for the decades to come.
BSP's Solar HQ Flagship Project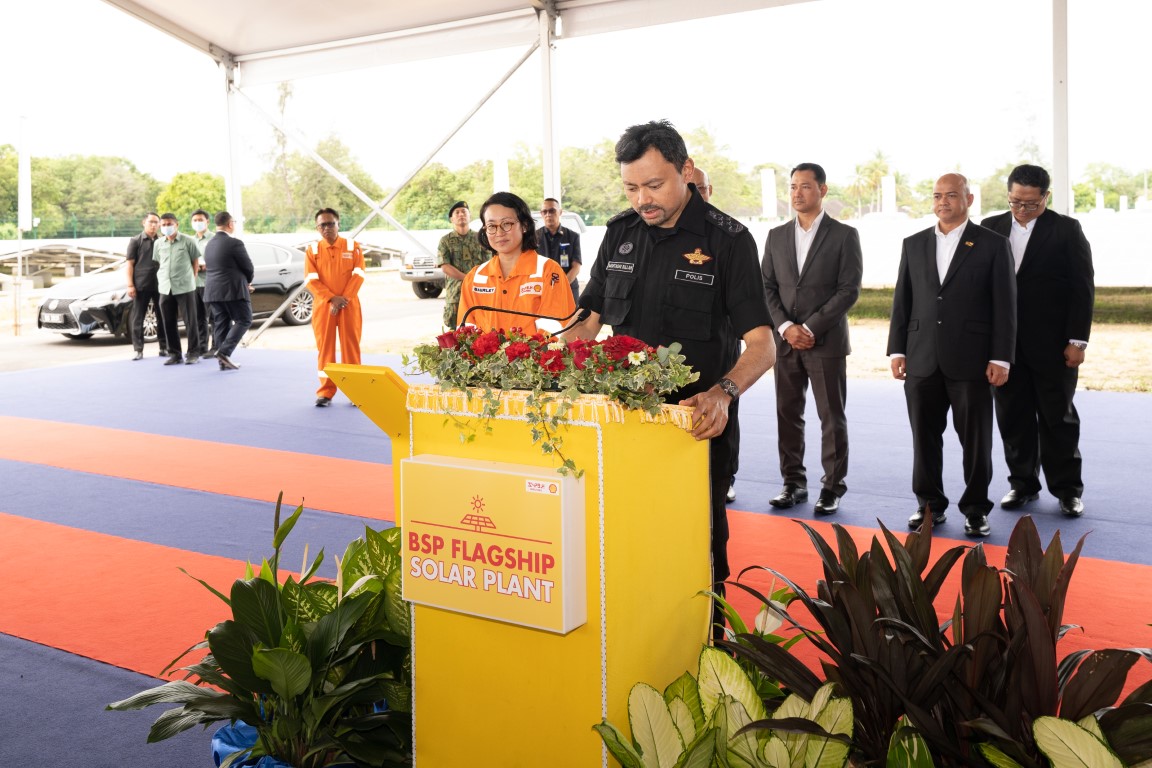 His Royal Highness Prince Haji Al-Muhtadee Billah ibni His Majesty Sultan Haji Hassanal Bolkiah Mu'izzaddin Waddaulah, the Crown Prince and Senior Minister at the Prime Minister's Office, launched the flagship solar plant on April 6, 2021 in his capacity as chairman of the Brunei Shell Joint Venture Companies.
BSP's Flagship Solar PV (photovoltaic) Plant is Brunei's second solar plant and was completed in under seven months to install almost seven thousand state-of-the art solar panels on four hectares of land at G11. The project was achieved by BSP's almost entirely Bruneian team in partnership with international experts. The 3.3 MWp(Megawatts-peak) plant produced its first power on 30thMarch 2021. The solar panel technology have an efficiency of around 20 per cent while the layout of the plant was designed to capture both the morning and afternoon sun to maximize output.
The plant will offset some of the power used by the BSP Head Office by generating electricity equivalent to around 600 households per year. For the nation, this is BSP's commitment to support the country's target of producing 100 MWpof renewable energy by 2025.